Cory Blais: Cello
Cory received a Bachelors of Music from Ohio State University, studying under Mark Rudoff. Now an active performer and teacher in Austin, he is currently pursuing a Masters of Music degree at UT. Cory serves on the faculty of the UT String Project, a program recognized as being one of the world's finest for the training of teachers and the development of young talent. He also conducts the program's Advanced Orchestra in addition to teaching. During the summer, he spends his time performing as a member of Wundertrio, a three-piece group consisting of violin, cello, and piano.
For Cory, cello lessons are more than just about learning to play. Music is meant to be thought-provoking, challenging, and fun, and he believes cello lessons should reflect those qualities. His main goals for his students are to be creative, be attentive listeners, and to foster a love for the cello and music in general.
Lex Chabraja: Piano
Lex is a pianist from Indianapolis, Indiana, where he began playing at age 8. Lex received his Bachelor of Arts in Music degree from The College of Wooster where he studied under Greg Slawson and Brian Dykstra, specializing in jazz and ragtime.

Lex teaches piano for all levels and genres, with a belief that focusing on improving students' basic aural and technical skills will open the door to any confidently playing any style of music.
Andrew Hlavinka: Piano
Andrew began teaching privately to all ages (from children through college students) in Boston, while volunteering for open mic nights at boys and girls afterschool clubs. He taught lessons through the Berklee City Music Program, and continued teaching after moving to San Antonio, Marble Falls, and finally Austin.
As a piano instructor, Andrew loves how empowering music is and greatly enjoys seeing his students grow in confidence as they're given access to multiple ways of playing. He uses a "lead-by-fun" attitude, bringing vivacity to each lesson. He reminds students that they have the power to accomplish their musical dreams by setting attainable goals and discussing the next steps that can lead to personal growth. Using a blend of technique, ear training, theory, reading, and improvisation, Andrew encourages his students to explore all avenues of music to find the kind they are most passionate about.
Aside from teaching, Andrew performs frequently with other artists in rock, jazz, funk, soul, pop, and electronic genres. He currently plays keys and synth in and indie group called Strange Rituals, and with soul artist Jo James.
Matthew Jeans: Clarinet, Sax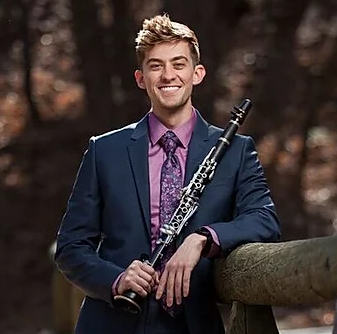 Matthew was first introduced to music at the age of six, when he began playing piano. However, once he began clarinet at the age of ten, he couldn't put it down. After playing both clarinet and piano for about a year, Matthew decided to focus on clarinet alone. Since then he has been refining himself as a clarinetist who enjoys modern and contemporary works alongside his classical training.
After receiving a Bachelor of Music in clarinet performance from the University of Alabama in Tuscaloosa, Matthew went on to earn a Master of Music from the University of New Meixco on Albuquerque where he also held a graduate woodwind quintet assistantship. Aside from performing, Matthew also has extensive teaching experience. He gave lessons at several schools in Alabama at both the high school and undergraduate level.
Now relocated to Austin, Matthew is eager to continue sharing his love of music through teaching. He believes in providing students with a solid foundation on both instrument technique and music theory. Though his focus is on clarinet, he also teaches saxophone, drawing on his many years of experience guiding woodwind sectionals.
Danny Kavka: Piano/Keyboard, Theory
Hailing from Toledo, Ohio, Daniel (Danny) Kavka is a keyboardist/singer with over 15 years of performing experience. Danny earned his Master's Degree in Music from Bowling Green State University and has previously played in multiple bands including Cincinnati's The Madisons and Cleveland's Liquid Sunset. He was also the lead keyboardist in Toledo's Game and Anime Music Ensemble (G.A.M.E.) Orchestra before moving to Austin, where he is now an active member of the musical community.
Danny specializes in pop and rock music, but has also taught blues, jazz, country, folk, soul, metal, and electronic styles. He uses a mix of structured method books to develop reading and technique, while also helping students learn how to play their favorite songs by ear. He helps students build their musical skills by emphasizing ear training, good practice habits, music theory, free improvisation, and style-specific patterns that will allow them to engage with their music on multiple levels. For younger students, Danny also incorporates games, composing new pieces, and singing.
Michael Larry: Drums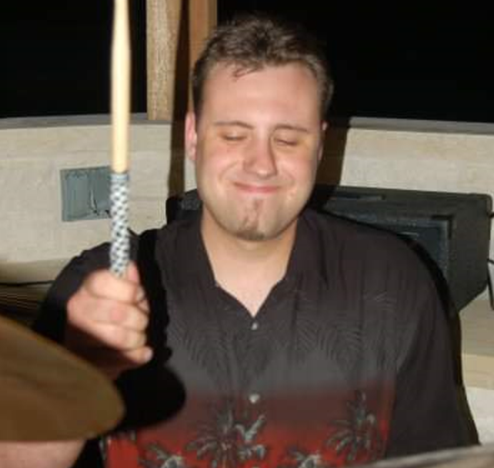 Michael has been an active musician since the age of 5. He has an extensive music education having studied jazz and percussion at Grand Valley State, the same at Grand Rapids Community College, and music composition at University of North Texas; he also studied with world-class drummers Tim Froncek and Scott Weltner. Michael has recorded albums in a variety of styles, and has played in various bands over the past 25 years. These include two punk bands, three metal bands, a Jazz ensemble, marching bands, and a 70's cover band. He currently performs all over the Austin area in addition to teaching.
Tom Littlejohn: Guitar (acoustic and electric)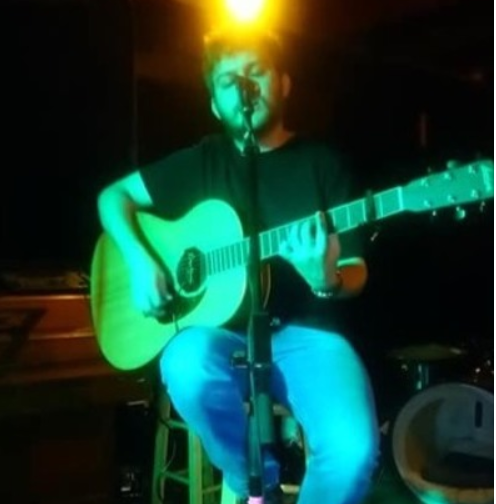 Originally from Massachusetts, Tom is passionate about music performance and teaching, having done both since the age of 16. In high school, he created an annual benefit concert for his community to give all ages a platform to perform. He was also an assistant to Ken DoRosario, an accomplished music therapist who specializes in counseling children with autism.
Tom graduated from the University of Georgia, where he studied Classical Guitar Performance under Dr. Daniel Bolshoy. Along with learning how to play guitar at a more advanced level, Tom further developed his teaching ability by adjusting to each individual student's needs, and working on their points of improvement.
Tom creates healthy fundamentals for students that will lead to ease of playing and a better overall experience on the guitar. Along with having a thorough knowledge of classical music, he loves playing and teaching the blues, pop, rock, and more.
Liam Lord: Trumpet
Liam Lord has been playing and immersing himself in music since he was 10 years old. Since the age of 17, he has been playing professionally in the Austin and greater Central Texas music scene. He is currently a full time member of The Boss Street Brass Band, and The Urban Achievers Brass Band. He is also a dedicated music instructor. Outside of music, Liam enjoys reading, writing, and attempting to cook tasty food.
Marina Magazinnik: Piano
Marina received her Bachelors, Masters, and Ph. D from the Moscow Tchaikovsky Conservatory, where she studied piano and chamber music. Upon completing her Ph. D dissertation, she was invited to conduct a series of lectures at the Conservatory as part of the course entitled "History and Theory of Piano Performances". During her years in Russia she gave numerous solo and chamber performances, and also recorded for Moscow radio and television.
In 1992, Marina moved to Boston, MA, where she became active as a teacher, accompanist, and chamber musician. She taught as a professor with the Northeastern University music department for sixteen years, and was a faculty member of the Brookline Music School for twenty-two years. While in Boston, Marina performed in a permanent duo with violinist Tamara Smirnova.
In 2016, Marina moved to New Mexico to become a faculty member at the New Mexico School of Music, where she collaborated in numerous performances. She often performed in chamber music series at the University of New Mexico, Chatter Albuquerque, and the New Mexico School of Music.
Marina has many years of experience teaching students of all ages, levels, and backgrounds. We're excited to welcome her to Austin and to our school!
Matt McLaughlin: Piano, Theory
Founder of Greater Austin Music Academy (formerly McLaughlin School of Music), Matt McLaughlin is also active as a founding member and President of the Austin Piano Festival, past Vice-President and Student Events Chair of the Austin District Music Teachers Association, and editor of the popular PianoBlog.com.
As a teacher, Matt is know for his extensive experience and expertise with students across the entire spectrum of levels and ages. His students have garnered top prizes in numerous competitions, have successfully auditioned at major conservatory programs, have appeared in multiple KMFA 89.5 radio broadcasts and interviews, and have performed as soloists with ensembles such as the Austin Symphony Orchestra and the Austin Civic Orchestra. 
Making his Concerto debut at the age of 15, Matt has over two decades of solo and collaborative performing experience. He holds a Bachelors degree in piano performance from James Madison University where he studied under Eric Ruple, and moved to Austin to study under the legendary pianist Anton Nel. As a member of Nel's studio completed a Master Degree in Music Theory at the University of Texas at Austin. Matt is also an alumnus of the Aspen School and Music Festival.  Besides music, Matt maintains many interests including fitness, philosophy, and business. You can also view Matt's private studio website at www.MattMcLaughlin.net, or read a more full bio here.
Please note: Matt's teaching schedule is currently very full, and he is only taking students on a case by case basis.
Hannah Pagitt: Piano
Hannah was first introduced to playing piano at the age of 6 when she began lessons. She began teaching while still in high school, taking on students at varying ages and levels.  During her time in college, Hannah also focused on vocal music, and besides working as a music instructor Hannah has taught other subjects including high school history. 
Her experience extends to many different ages as well as working in group settings, and she is also skilled with young beginners as early as 3 years old.
Meagan Peaco: Violin, Viola
A native of Ellicott City, Maryland, Meagan began studying viola in 3rd grade. She went on to Carnegie Mellon University where she double majored in Viola Performance and Biology. After graduating, she chose to follow her passion, earning her Master of Music in Viola Performance at UT Austin.
Loving the warmth and the amazing music scene, Meagan decided to stay and begin teaching violin and viola. She was a teacher for the UT Austin String Project and has used that background to build a teaching program focusing on the overall growth of her students, primarily based on the Suzuki methodology.
Emil Pohlig: Piano, Flute
Emil has always had a passion for music. He started taking piano lessons in middle school, even though he was already playing percussion in band class. In high school he decided to teach himself the flute–and then the oboe, and then the trumpet, and then the violin. He loved it all, but in college he didn't think music could be a career and tried to do computer science instead. Still his love for music couldn't be ignored, so he joined Brigham Young University's Philharmonic Orchestra, performing in numerous concerts and operas.
Emil completed his college experience with a degree in music education from the University of Utah before moving to Austin. He has taught piano and flute for nearly 10 years and also performs locally with choirs and bands in Leander, Round Rock, and Austin ISDs. Emil loves to make learning fun and exciting, whether students are interested in classical, jazz, or pop music.
Miguel Roberts: Piano, Guitar, Sax, Voice
Miguel started out playing saxophone in marching band, wind ensemble, and jazz band at Bastrop High School. A former Drum Major, he believes music and art are important parts of a formal foundation for students. After high school, Miguel attended St. Mary's University in San Antonio, Texas, where he majored in Vocal Performance. He participated in numerous ensembles and theater productions, and was also a church musician at Christ Lutheran Church of Alamo Heights.
Miguel has taught private lessons for the past 10 years all over central Texas from Bastrop to San Antonio to Austin. He accepts students of all ages and skill levels, and has experience not only with private lessons but also with teaching Early Childhood and High School Music classes. He teaches a variety of styles, his favorites including acoustic, classical, and Latin jazz. He is always working on piano arrangements and saxophone covers. In his own words, "performing music allows me to express myself in ways that I might not otherwise be able to."
Chad Tracy: Guitar, Bass, Voice, Beginning Piano
Chad has over 20 years of experience as a performing musician and music educator. He earned his Master's degree in Jazz Performance from the University of the Arts in Philadelphia, and has studied with many jazz greats including Pat Martino, Jimmy Bruno, and Mimi Fox. He taught at Bloomsburg University in Pennsylvania and later at Central Texas College in Killeen.
Chad has experience with both private lessons and group music classes. While his focus is on guitar, he also offers bass, voice, and beginning piano lessons. He enjoys creating a fun, encouraging atmosphere for students to learn and grow on their instrument.
Jackson Van Norman: Piano/Keyboard
Jackson is a jazz, clasical, and pop pianist born and raised in Austin, Texas. He began at age 5 with the Suzuki method and progressed to jazz performance in adolescence. As a performer, his specialization is in jazz and rock/pop. He received his Bachelor of Arts in Philosophy from the University of Texas.
Over the past decade, Jackson has performed with numerous ensembles including the Austin College Regional Jazz Ensemble, Metal & Wood, Groove Think, Dreamboat, and Batty Jr. In addition to live performance, he has assisted in various Austin recording projects as a session musician. Currently you can catch him accompanying the fiddle prodigy Ruby Jane Smith, leading the band King Warbler, and playing solo jazz and singer/songwriter shows.
Jackson has been teaching kids and adults of all ages and levels for nearly 10 years. His teaching styles is a mix of from-the-book traditional curriculum and more loose-leaf education. Students have also been known to bring in original compositions for songwriting workshops.
Trevor Villwock: Piano, Composition, Theory, Electronic Music
Trevor is a composer and pianist who began his study at age 6. He holds a Bachelor of Music in Composition from the University of Colorado at Boulder. While there he received the 2013-2014 CU Undergraduate Composition Award and the 2016-2017 CU Undergraduate "Spark" Award for electronic music, and was twice named a CU New Opera Workshop Composer Fellow. His music pulls from a variety of influences, primarily jazz, 20th/21st century classical, punk, and psychedelic music, and he finds deep joy in the act of musical exploration as a listener, performer, teacher, and composer.
Trevor enjoys teaching students of all ages and skill levels, and also leads our once-monthly Beginner Jazz/Jam Sessions. A versatile and friendly teacher, he helps students engage with music by developing their skills through theory work, aural training, and technical exercises.
Eric Young: Piano
A native of West Texas, Eric began his piano studies at the age of 5. Initially a science major, Eric quickly switched to music because of his deep love for the piano. He holds a degree from the University of Texas in piano performance, where he studied under the legendary pianist Gregory Allen. He also studied piano pedagogy with respected expert Sophia Gilmson who helped him fine-tune his remarkable teaching abilities.
Eric's teaching style is warm, patient, and encouraging while maintaining a structured and logical approach. He consistently receives raving reviews from his students and is highly adaptive to each student's personal needs and goals. Students can enjoy taking our once monthly Performance Classes with him on Saturdays.
Please note: Eric is currently not a weekly teacher and is only able to accept ad hoc students.
When not teaching or performing, Eric enjoys reading, learning languages, and making piano covers of Billboard Top 100 songs.
Office Manager: Stevie Hawes (Flute, Piano, Sax, Clarinet)
Born in England but raised right here in Austin, Stevie has been a passionate musician since they started learning piano at 5 years old. In middle school they picked up the flute, then saxophone towards the end of high school–and the hoard of instruments has continued to grow since then. Stevie graduated from Knox College with a Bachelor's Degree in Music. Alongside participation in many chamber groups on flute and piano, they led the sax section of the Knox Jazz Ensemble for two years, then came back for a post-baccalaureate year which they spent working for the music department. They also helped raise over $12,000 for the KJE to support a cross-cultural exchange trip to Beijing and Xi'an, China.
Since graduating, Stevie has been actively working and performing in the Austin music scene. They lent their time to Conspirare, Austin Chamber Music Center, and Strait music before becoming GAMA's office manager in the fall of 2018. Currently, Stevie is also a piano accompanist at both Ballet Austin and the University of Texas. Their active bands include Primo Musique, Oh Antonio & His Imaginary Friends, ReGeneration, and Sheilava.
Also a massive Nintendo fan, Stevie spends their free time creating instrumental covers of video game music, which you can find on their YouTube channel. They are working towards being a freelance composer in addition to a performer and session musician.